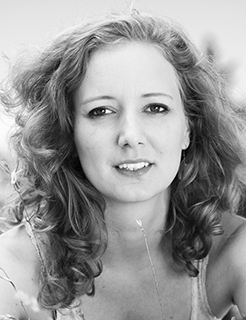 Réka, Molnár
I have graduated as a textile designer at MOME, Moholy-Nagy University of Art and Design, Budapest, in 2009.
Under the University I had specialized to fashion but during an Erasmus Scholarship to Finland I have discovered printed textile design. Nevertheless I have had 5 year experience in fashion, the 5 months scholarship, and the impression on the Marimekko Company has changed my mind and I have started to design printed home textiles. After the university I have started to work as a freelance designer and established my own brand.
Under the name Moringa I create screen printed home textiles like cushion cases, curtains, tableware and home accessories.
I like screen printing technique with its vivid colours, pure and simple outlines. The origin of my patterns mostly comes from nature. Yet inspiration might also be an everyday object or geometrical shapes. My speciality is to combine the exciting forms of nature with vibrant multishade colours. Harmony of colours is really important in my life.
Nowadays I enjoy playing with forms and to create designs that can be personalised by the user. The eventual forms of my new 'funny' line of products will become truly visible during usage. Align the lines of magnets with birds or pour hot liquid into the heat sensitive, pattern changing mug!
Lovely patterns for lovely design